You HAVE to make these pikelets!!! I based the recipe on one that I found in
Donna Hay's Kid's Magazine
. I've added a couple of things to her original recipe. I love Donna's recipes, they are so simple and easy to cook as well as
always
tasting great.
I remember cooking pikelets
often
when I was little. We just had plain ones in our house (with butter or jam & cream). I always loved them. But I think this new recipe with the addition of apple, cinnamon and brown sugar is going to be a new favourite in our house. They are
so
good! Perfect for an after school snack or a lunchbox treat. One thing I will try next time is to use a cup each of wholemeal and white SR flour.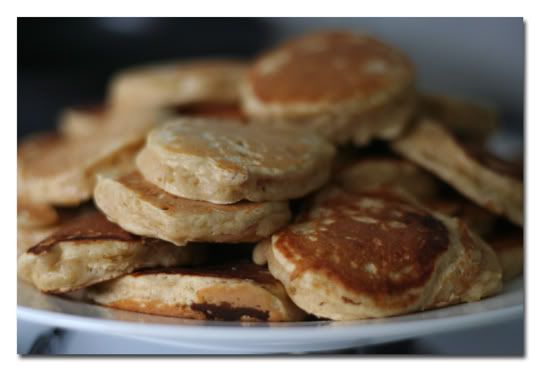 Ingredients (Makes about 30)
2 cups self raising flour
1 tsp ground cinnamon
1/3 cup firmly packed brown sugar
1 apple, grated (leave skin on)
3 eggs
30g butter, melted
1 cup milk
1 tsp vanilla
Extra melted butter for cooking.
Sift flour, cinnamon and sugar into a mixing bowl and make a well in the centre.
Add the rest of the ingredients, except apple, into the well and stir until combined.
Stir through grated apple.
Heat a non stick frypan over a low heat and melt a small amount of butter.
Drop heaped tablespoons of batter into the heated pan and cook for a couple of minutes, or until bubble appear on surface. Then flip and cook for another couple of minutes, until golden.
Serve warm or cold with your choice of vanilla yoghurt, jam, honey, butter and cinnamon sugar.
Enjoy!
Tips for making pikelets:
Don't over mix the batter or they will go rubbery. It's better to leave some small lumps than to overmix.
Cook in a non stick frypan if possible.
Don't let the pan get too hot or the pikelets will cook to quickly on the outside and still be raw in the middle.
Only use a small amount of butter in the pan. I have some melted butter in a small dish and use a pastry brush to "swish" a small amount around when the pan gets a little dry. Too much butter makes the outsides brown too much, too quickly.