**eta** 5 June 2010... When I started this new blog I was really busy, so I posted a few photos with every intention of writing about them. But it was in the middle of my first semester of uni so I had absolutely no time! So semester 1 is now over and I have a bit of breathing space - and hopefully some creative time :)
In my blog surfing travels over the past couple of years I've come across some gorgeous crochet blogs. I decided I'd love to take up crochet again. I remember making a granny square rug when I was about 8 years old, but I'd totally forgotten how to crochet - apart from chain stitch... Last year I attempted to start a granny square rug, but failed dismally. I couldn't find any tutorials on youtube, or anywhere else that didn't totally confuse me. Then... a few weeks ago I found
this easy to follow tutorial on youtube
. I couldn't wait to get started (even though it was mid semester) I went to Spotlight and was delighted to find some gorgeous wool in bright colours - on sale! I'm using Moda Vera 8 ply 100% wool in colours: 08 (white), 04 (pink), 34 (green), 37 (turquoise), 15 (orange). The colours in brackets aren't the real names, I'll need to find out what they are. Only the numbers are on the labels, so if you are looking for the same wool, it should be easy enough to identify.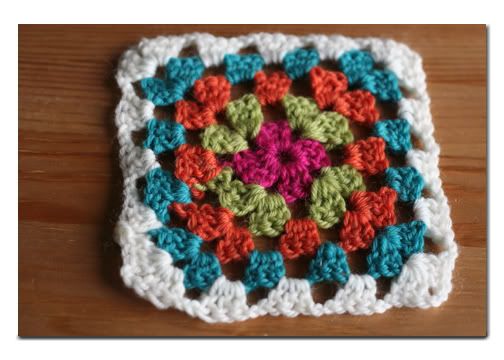 Above is the first square I did. It took a while. But I've now sped up the process a little and it takes me about half and hour to complete one square - hoping I can get a little faster.
By the end of the first week I'd made all these (plus a couple of rejects).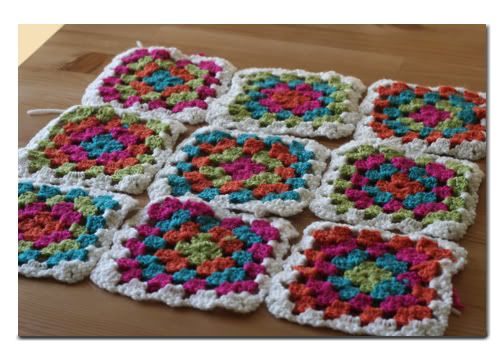 If you're looking for some crochet inspiration have a look at
attic24
, I came across this blog last year and it's the first one that inspired me to take up crochet again. Then I discovered
Sarah London's blog
and
Retro Mummy
These are just my faves, but there are many more. Their work is all so pretty and neat. I have a long way to go in perfecting my crochet, but I'm loving it...